Division of engineers into classes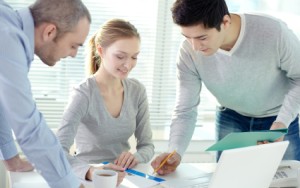 Class A
Engineers with average experience on project between 4-6 years, with excellent references from recent customers, are able to offer solutions of problems independently, giving clearly presented propositions to the customer, able to clearly understand technical documentations and principal studies. They have experience in all phases of projects: pre-developement, building prototypes as well as support in phase near serial production. Ability of fluent comunication in English or German language is standard. 100% knowledge of used software and related software tools necessary for communication, presentation, secured data transfer and CAD data quality inspection belongs to their common skills. As next important characteristic is ability to manage team of CAD designers directly or remotely in external design office with significant emphasis on quality of released CAD data.
Class B
Engineers with average experience of 2-4 years with good references from recent customers, are able to solve common problems by clear understanding of documentation, principal studies and technology limits. They are capable to generate CAD data with demanded quality and quoted time. Communication skills are on advanced level of English or German language. They are competent to work effectively under CAD leaders, understand their assignments directly or remotely in external design office.
Class C
Engineers with minimum experience in real projects which are carefully chosen mostly from university graduates, with verified skills in technical thinking, flexible and adaptive to new conditions, able to fulfil customers expectations. These people will not be assigned to project without careful training on used software (actually Catia V4 and V5), training on plastic parts design, principles of molding and latest technological options and limits. Part of training process will be also improving communication skills with significant accent on customers know-how security, flexibility and problems understanding.